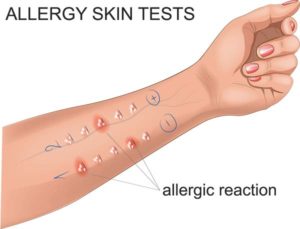 Skin testing is a procedure that is commonly performed in the office of an allergist. It is used to detect allergy to multiple allergens including pollens, foods, stinging insects, and medications. A positive skin test correlates with your body producing IgE antibody to a particular allergen. There are two types of skin tests: prick-puncture tests, and intradermal tests. In the prick-puncture test, the allergen is introduced into the superficial part of the skin with a hand-held device that either pricks or punctures the skin. A reaction occurs that is characterized by a bump (wheal) and surrounding redness (flare). The diameter of the bump and redness are measured in millimeters after 15-20 minutes. The second type of skin testing, intradermal testing, involves the injection of a small amount of allergen with a tuberculin syringe and a 26-27 gauge needle. The intradermal test is read in the same way as the prick-puncture test after 15-20 minutes. It is extremely important to stop taking antihistamines prior to your skin testing session. Click here for more details about what to expect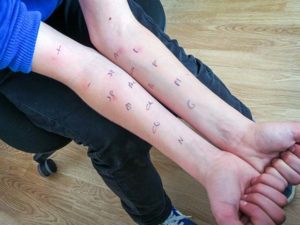 The interpretation of the test results by your BVAAC board-certified allergist is often complex. A positive skin test only represents sensitization (the presence of IgE antibody to an allergen), but does not confirm the presence of allergic disease. YourBVAAC board-certified allergist will take your clinical history as well as many other factors into consideration in this interpretation. According to the U.S. Joint Council of Allergy and the European Academy of Allergy and Immunology, prick-puncture tests are considered to be the most convenient and least expensive way to detect allergies.
Boise Valley Asthma and Allergy Clinic – We are always here for you
Your BVAAC board-certified allergist is well-trained in all aspects of asthma, and the use of Nucala (mepolizumab), including Nucala administration.
If you have any questions, give us a call today at 208-378-0080 or click the button below to make an appointment request online.