Aspirin-Exacerbated Respiratory Disease (AERD)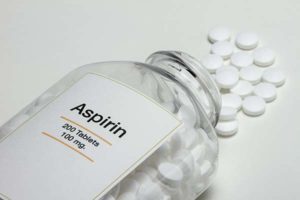 Aspirin-Exacerbated Respiratory Disease, also known as aspirin sensitive asthma, is a chronic respiratory condition that includes asthma, sinusitis, nasal polyps, and a tendency to wheeze several hours after the ingestion of aspirin as well as other non-steroidal anti-inflammatory drugs(NSAIDs) such as ibuprofen. About 10% of all adult asthmatics, and 40% of asthmatics with nasal polyps have this condition. An informative website from Brigham and Women's Hospital in Boston is AERD.partners.org. Click here to watch an excellent video on AERD from an expert, Tanya Laidlaw, M.D.  Another excellent informational and support resource is The Samter's Society.
Symptoms of AERD
AERD is associated with asthma that is often chronic and severe. Nasal polyps occur in the nasal cavities/sinuses. These gray gelatinous polyps are associated with nasal congestion, as well as the inability to smell things. There may be recurrent sinus infections. In addition, there are reactions associated with the ingestion of aspirin, or NSAIDs that often occur within several hours. The symptoms may include severe wheezing, nasal congestion, flushing, as well as gastrointestinal symptoms such as nausea/abdominal cramping. Wheezing is usually present.
Management of AERD
Avoidance of aspirin and NSAIDs.

Medications such as acetaminophen (Tylenol) aa doses below 1000 mg
The NSAID Celebrex may be tolerated.
A medical alert bracelet emphasizing the avoidance of aspirin, and NSAIDs including the injectable NSAID Toradol.

Medications and surgery

Treatment of asthma with standard medications as well as with montelukast (Singulair) and in some cases Zileuton (Zyflo)
Treatment of nasal polyps with topical steroid nasal sprays, nebulized nasal budesonide, and in some cases surgery.
In some cases (severe asthma) treatment with injectable biological medicines for asthma such as Dupixent, Xolair, Nucala, and Fasenra. A recent study showed the effectiveness of Dupixent in patients with AERD.
Aspirin Desensitization
Aspirin Desensitization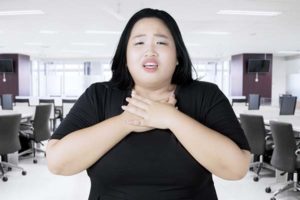 Another option for people with AERD is aspirin desensitization. This is a safe two day protocol that would be performed in our office. Increasing doses of aspirin are given based on a standardized protocol until a maintenance dose of aspirin is reached. The maintenance dose is then taken on a daily basis. The benefits include improved asthma and nasal symptoms less polyp regrowth, fewer surgeries, and a better sense of smell. In addition, a person can take NSAIDs such as ibuprofen for pain after completing this procedure.
Future Therapies
There are several injectable biological therapies that will eventually get the indication for the treatment of nasal polyps. A recent study showed that the biological medicine Dupixent improved sinusitis/nasal polyposis symptoms and asthma in patients with AERD. There was also a preliminary study recently published in a major allergy journal describing an AERD diet that may improve both nasal and lung symptoms in AERD. Click here for a one-page table describing the AERD diet.
Boise Valley Asthma and Allergy Clinic – We are always here for you
Your BVAAC board-certified allergist, a knowledgeable expert in all aspects of AERD management, can formulate an individualized treatment plan to manage your asthma throughout pregnancy and provide you with written educational material. If you, or a member of your family has Aspirin Exacerbated Respiratory Disease (AERD), give us a call today at 208-378-0080 or click the button below to make an appointment request online.